Committing to a healthy diet is easier when you have a great recipe like this. Broccoli is packed with vitamins, minerals, and bioactive compounds that contribute to reduced inflammation. It is full of antioxidants and fiber which supports healthy blood sugar levels and heart health. Broccoli is also full of vitamin C, vitamin K, iron, and potassium making it, in my opinion, a super hero food.
Not everyone is a fan of eating broccoli raw, but this finely chopped broccoli salad recipe is full of flavor and crunch making it a fun and tasty option. Eating raw fruits and veggies supports giving our body tons of enzymes. Enzymes are important proteins that assist our body in essential digestion, respiration, muscle, nerve, and liver function.
This recipe includes other superfoods that when combined with broccoli make it a total hit at any dinner table. It's a fun way to introduce loved ones into the palate varieties of raw vegan meal options. Let's get into the recipe and then I will share the healing benefits of its other superfoods.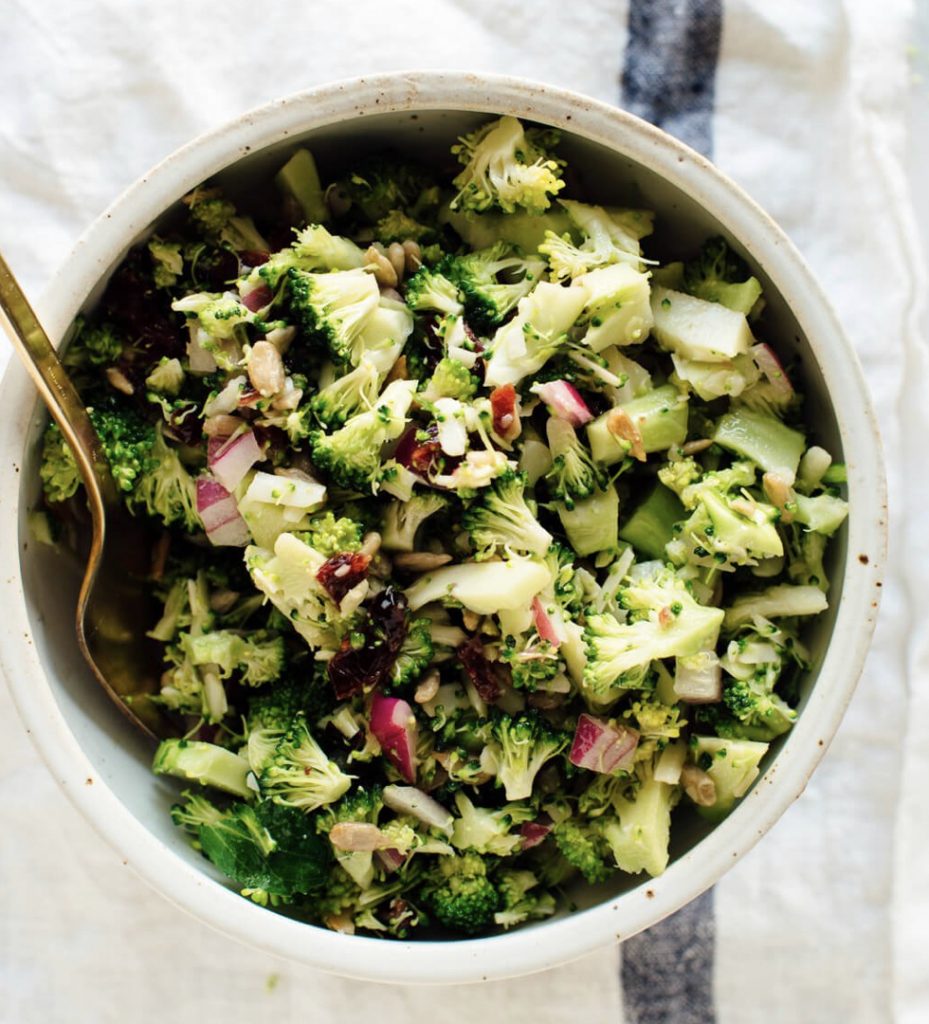 Ingredients:
Organic Broccoli- 2 Broccoli heads, and yes! Stems finely chopped
Organic Red Onion- 1 Cup diced
Dried Organic Cranberries- 1 Cup
Organic Sunflower Seeds- 1 Cup
Organic Avocado- Chopped
Organic Chopped Almonds, and pumpkin seeds are delicious additions for that extra extra read all about it crunch! Throw on a handful!
*I also love to add fresh organic purple grapes when in season, chopped in halves or quarters*
Dressing:
3 tablespoons Organic Olive Oil
1 Garlic Clove minced
1 tablespoon Apple Cider Vinegar
1 teaspoon Organic Raw Honey
2 teaspoons Organic Dijon mustard, or powdered organic mustard seed
Sea Salt to taste
****Short cut with Your favorite Organic Honey Mustard Dressing****
Mix All Ingredients together and Serve! This salad keeps great for a few days too! Your loved ones who complain about eating broccoli will be asking for seconds!
More Healing Benefits
Red Onion is another food with tons of antioxidants to fight free radicals, especially rich in quercetin and vitamin C, which reduce cell damage. Red Onions boosts immunity, lowers blood pressure, promotes heart health and digestive health. Red onions contain sulfur compounds, which help reduce bad bacteria in the gut. Red onions also promote oral health, hair growth, an even skin tone, and increase bone density!
Cranberry on top of supporting immune and digestive health is a great addition to the diet to support urinary health, and support reducing liver damage by fighting free radicals.
Sunflower seeds are powerful for fighting off viruses. Sunflower seeds contain folate, which is essential for new cell growth, and folic acid which helps carry oxygen from the lungs throughout the body. Did you know sunflower seeds also make the skin glow? All the antioxidants support a healthy and nourished complexion.
Red Grapes if in season are a must add to this salad. Red grapes are detoxifiers, they are full of flavonoids and polyphenols which relax blood vessels, and reduce inflammation and clotting.
Almonds contain healthy fats which are essential for detoxification and metabolism. Add almonds to your diet to lower blood sugar, blood pressure, and cholesterol. Almonds offer magnesium and vitamin E, essential for a balanced mood, hormone health, healthy stress response, and restful sleep.
Avocado is one of my main sources of fat, B6, and Omega 3 Fatty Acid. Healthy fats in your diet is so important for a healthy metabolism, Immune and nervous system functioning, and lymphatic system functioning. Avocados also contain Riboflavin and Niacin, Folate, Beta Carotene, Potassium, Magnesium, and Fiber!
Eat to Live, and Let Live! And InJoy this precious Life!